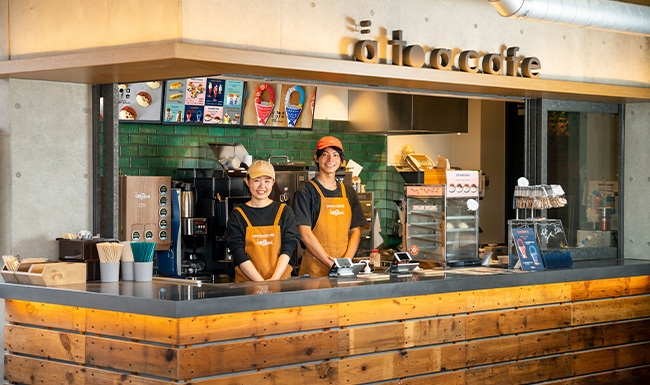 4FCafe

A heavenly garden cafe stand to experience KOBE (sea and mountain).
You'll want to snap a photo of the food and drinks automatically.
A place of chill out for customers who have enjoyed átoa.
Crocodile dog ¥1,100

Otter Hug Potato Wedges
Consomme ¥660
Cheese ¥710


Rustling Shark
Chili lemon ¥710
Parmesan black pepper ¥710

Black Fish Churro ¥660
Red Octopus Churro ¥660

MIYABI Soft-serve ¥770


Palm-sized Otter Buns ¥660

Otter Eclair ¥660

Straw Cookie ¥330

Aquarium Bubble Fizzy Drink ¥780
Aquarium Bubble Sour (alcoholic) ¥900
*We may suspend sales of alcoholic drinks upon request from the government.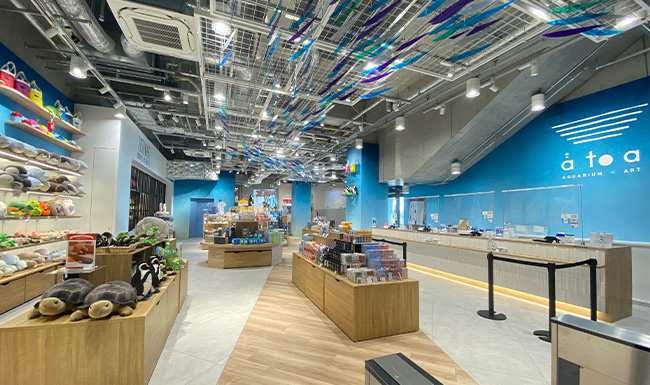 1FMuseum Shop

Offering quality museum goods, including caretaker-chosen stuffed animals and collaborative products with famous brand from Kobe and Hyogo Prefecture.

*The Museum Shop can also be accessed without visiting the aquarium
You can also purchase cute átoa items online.
Realistic Humboldt penguin plush ¥3,300

Asian small-clawed otter plush ¥2,900

Polka Dot Stingray Cushions ¥3,300

Plush mole rat ¥2,550

Veiled chameleon plush with opening mouth ¥4,200

Bug-eating veiled chameleon plush ¥2,900

átoa Kobe Tea Flower Blend ¥800
átoa Kobe Tea Blue Blend ¥800

átoa×Kobe INK Monogatari
Special Color SKYSHORE ¥2,420
Special Color MARINE NOTE ¥2,550
Special Color ELEMENTS ¥2,420
Special Color PLANETS ¥2,420

átoa Sacucci Horocci (10 pieces) ¥1,100

átoa JIB SJ OpenTote M ¥9,800
átoa JIB Bucket Tote S ¥4,850
átoa JIB Puffer Fish Pouch ¥2,750

Seamless boxershorts chameleon ¥2,200
Seamless boxershorts mole rat ¥2,200